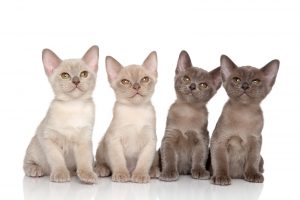 Information about the Burmese cat
It is a breed of domesticated cats divided into two subgroups: American Burmese and British Burmese Most modern Burmese are descendants of female cats Wong Mao, which came from Burma to America in 1930.
Information about the Burmese cat
Most cat records do not recognize a split between the two groups, but those that do not officially refer to the type of British Burmese European cat breeders.
Originally Burmese cats were limited to dark brown (sable), but years of selective breeding have produced a wide variety of colors, Burmese cats are known to be friendly to humans.
The eye color of the breed is golden or yellow, and the coat is known as shiny satin, with short hair.
A Burmese cat lives longer than most cats, they often reach 16 to 18 years of age.
Burmese cats are small to medium sized breed of about 4-6 kg in weight.